Access

Tokyo (Haneda Airport) to Kumamoto (Aso Kumamoto Airport) about 95 minutes by air
Osaka (Itami Airport or Kansai Intemational Airport) to Kumamoto (Aso Kumamoto Airport) about 65 minutes by air
Fukuoka City to Kumamoto City about 35 minutes by Kyushu Shinkansen (Bullet Train) about 110 minutes by highway bus
by bus
JR Kumamoto Station-Kotsu Center: about 10 minutes
Kotsu Center-University: about 40 minutes
Prefectural Government Office-University: about 20 minutes
Aso Kumamoto Airport-University: about 60 minutes (with transfer)
by car or taxi
about 40 minutes from JR Kumamoto Station
about 15 minutes from JR Suizenji Station
about 20 minutes from Aso Kumamoto Airport
about 15 minutes from Kumamoto I.C.
Kumamoto Prefecture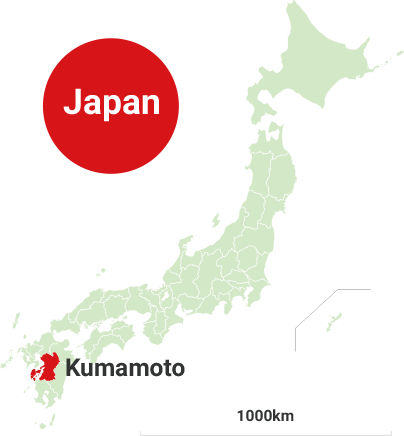 Kumamoto Prefecture is located right in the center of Japan's southern island of Kyushu. It has a population of about 1.8 million and an arca of 7409 km2. The prefecture is renowned for its beautiful landscapes and rich natural surroundings, including mountains, rivers, fertile plains, and the sea. Each area of the prefecture — including Amakusa, Aso, and Hitoyoshi – has its own industries, with agriculture, fisheries, and forestry foremost among them. Traditions from the past are still alive and well, yet are evolving to match the changing times. Kumamoto is the capital and largest city of Kumamoto Prefecture.
Kumamoto City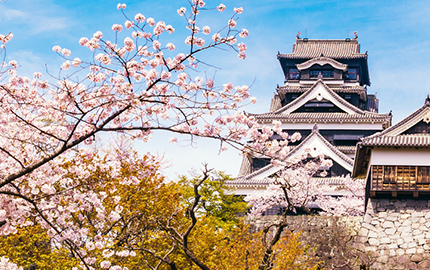 PUK is situated in Kumamoto City, known as the City of Forests and Water. The city has a population of about 750,000 and the total area is around 390 km2. Rich in history and tradition, it is the home of Kumamoto Castle, one of the "Big 3" castles in Japan and the city's most famous landmark.